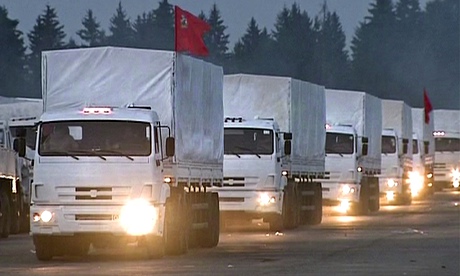 Russian convoy approaches Ukrainian Border
A Russian convoy of 280 military trucks carrying 2,000 tonnes of water, food and other humanitarian aid is making its way towards the Ukrainian Boarder. Kiev reiterated that the convoy could not cross the border until Ukrainian authorities had cleared its cargo.
The humanitarian aid will be delivered to the Luhansk region in eastern Ukraine, which is mostly held by Separatists Forces. Ukraine's government is sceptical over Russia's intentions to provide humanitarian aid. Some officials fear that this move could be disguising a Russian plan to invade Eastern Ukraine.
Russian military vehicles supposedly in support of the aid convoy have crossed the Ukrainian border. The aid convoy has remained at the border. A convoy of 23 armoured personnel carriers, supported by fuel trucks and other logistics vehicles crossed the border on Thursday night. Russia has so far denied any military involvement with separatist rebels in Ukraine.